New Audi Q7 in Austin, TX


What's New in the 2021 Audi Q7?
The Audi Q7 is a luxury three-row SUV found at our Austin dealership that is a popular choice for car buyers seeking a comfortable vehicle to transport their loved ones. The newest offering to the Audi Q7 lineage is the 2021 model which comes with an array of style and performance changes that make this vehicle one that many luxury SUV enthusiasts can appreciate.
The area where the new Audi Q7 is arguably getting its biggest upgrade is in its style and the 2021 Audi Q7's new design is a welcomed one. The new 2021 Audi Q7 has a much more muscular look to it when compared to past iterations of this vehicle thanks to its front end receiving a more "aggressive" design. This newly added aggressiveness on the front end of the Audi Q7 tightens up its proportions and makes it look less heavy and clunky. Now, the 2021 Audi Q7 can be driven with pride because of its new sporty style.
Technology
The new two-screen center console in the new 2021 Audi Q7 first debuted on the new Audi A6, and it has full-touch functionality and is easy to navigate. The top screen handles all things infotainment, music, phone connectivity, and navigation while the bottom screen will be responsible for handling your SUV's settings and climate controls!
In front of the driver is a third screen that comes standard with all new Audi Q7s. This third screen, the Audi Virtual Cockpit, is completely digital and found in the gauge cluster! This system is responsible for providing the driver with pertinent information like speed, fuel level, and efficiency, as well as other information to keep you focused on the road ahead.
Other technologies that are included in the new 2021 Audi Q7 include LTE Advanced and Audi Connect. LTE Advanced is a wireless hotspot so that passengers can browse the internet while being driven around, and Audi Connect® is a tool included in the new Audi Q7 that integrates traffic information into the vehicle's sat-nav!
Amazon Alexa voice service is also available in the new Audi Q7, and the new Car-to-X service that is being added to new vehicles around the world is also included in the new Audi Q7. In fact, the Audi Q7 is one of the first cars to get it. This new Car-to-X service connects into a smart city's infrastructure and sends back information to your vehicle from central traffic light computers using a server. With this information, you can then decide to switch your speed to match the next green-light phase. Those of you in Austin, TX who hate sitting at red lights may love this new feature!
Performance
Performance changes that were made in the new 2021 Audi Q7 include upgrades to its steering and suspension systems. These upgrades include a new 48-volt active body control system and the option for four-wheel steering. Air suspension is also available for the two-row models of the new 2020 Audi Q7 for a more comfortable ride, no matter the terrain! The three-row versions of this vehicle will get it as a standard feature!
Interior
Another area where the Audi Q7 received a modern upgrade is in its interior. The new Audi Q7 still has the comfortable interior design features that Audi Q7s of the past have come to be known for, but the 2020 version also comes with a dual-touchscreen Audi MMI® setup and the option for all three passengers in the second row to have individual seat positions! Also optional inside the new Audi Q7 is ambient lighting which will help you to really set the mood for any adventure in the Austin area.
Shop for a Luxury SUV in Austin
Our team at Audi North Austin in Austin, TX is available to help you browse our inventory of new Audi vehicles, like the new 2021 Audi Q7! If you want to experience this SUV for yourself, you can also schedule a test drive today! Otherwise, visit us today to buy a 2021 Audi Q7 of your own by applying for the best auto financing with our help! Plus, Plus, are also proud to offer some incredible Audi incentives and different dealership specific specials we can bring you. We will be sure to see you soon!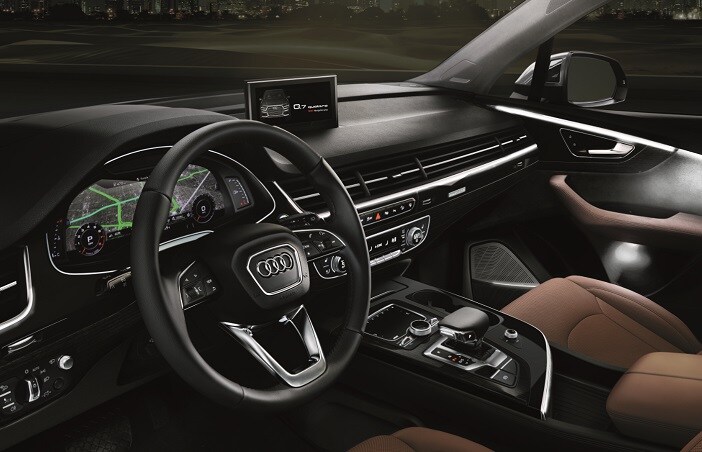 Hours
Monday

9:00a - 7:00p

Tuesday

9:00a - 7:00p

Wednesday

9:00a - 7:00p

Thursday

9:00a - 7:00p

Friday

9:00a - 7:00p

Saturday

9:00a - 6:00p

Sunday

Closed