New Features in the 2021 Audi A4 in Austin, TX
Audi is famous for making some of the most luxurious performance vehicles on the market, and the new 2021 A4 model is keeping up with this trend. If you're trying to find a vehicle that's as stylish and attractive as it is powerful, the 2021 Audi A4 fits the bill. It includes some of the newest convenience and safety technology available, and we hope it will make a splash in Austin. Check out the Audi A4 configurations today at Audi North Austin on Pond Springs Rd in Austin, TX.
What's New in the 2021 Model?
First and foremost, you can expect the new 2021 Audi A4 to be an upgrade from the 2021 model. It has improved gas mileage, so you'll be able to drive for longer and less money. It offers the sort of horsepower you want from a luxury performance sedan.
Performance
With 35 miles per gallon on the highway and 27 mpg in the city, the 2021 Audi A4 is as powerful as it is efficient. Upgraded versions of this automobile generate up to 248-horsepower. The engineers didn't sacrifice any power in exchange for gas mileage.
Its turbocharged fuel injection system uses direct injection technology that makes Audi vehicles as excellent as they come. The turbocharged performance helps the vehicle maximize fuel efficiency by not burning any unnecessary fuel, and it keeps the inside of the vehicle clean by reducing the amount of residue that gets deposited on the inside.
The 2021 Audi A4 can go from zero-60 mph in about seven seconds so that you won't be lagging on the highway with this vehicle. This sort of acceleration gives you the feeling of control behind the wheel that you seek.
Style
The style of this vehicle is nothing short of excellent. It features classic Audi designs that we hope will be popular near the Austin, TX area. The designers at Audi have a signature blend of elegance and function, and they match the interior materials with their overarching aesthetic vision. As you'd expect, the 2021 Audi A4 is as nice to sit in as it looks.
Tech and Features
The A4 features Audi Pre Sense driving assistance; this warning system looks out for potential hazards on and around the road. This system mitigates the risk of accidentally hitting pedestrians while you're driving through a city. It also features lane assistance, parking assistance, adaptive cruise control, and side assistance. The car can't quite drive itself yet, but it just might feel like it sometimes. All of these features work together to give you a cohesive experience behind the wheel, and they can quickly pay for themselves by reducing the possibility of accidents.
The 2021 Audi A4 is also compatible with Audi Connect and myAudi systems. This car even includes a phone box that can charge your device and boost its signal. While a lot of the technology in this vehicle works to keep you safe, it can also improve your overall comfort in the car.
What's Next?
We have a lot more than just the new 2021 Audi A4 at Audi North Austin. If you're interested in learning more or want to schedule a test drive, please call or stop by. Our agents can work with you to find the best vehicle for your situation, and we can even help you apply for financing and walk you through other offers that can make a new 2021 Audi A4 as affordable as possible. If you're looking to save even more and expand your search for your next Audi sedan, see why you should look into buying a used Audi A4.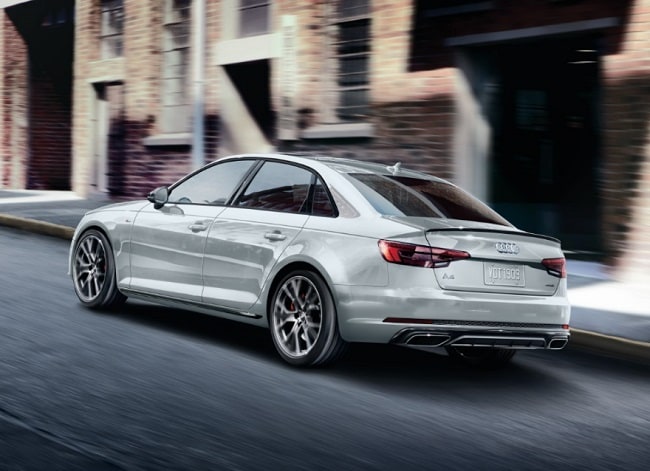 Hours
Monday

9:00a - 7:00p

Tuesday

9:00a - 7:00p

Wednesday

9:00a - 7:00p

Thursday

9:00a - 7:00p

Friday

9:00a - 7:00p

Saturday

9:00a - 6:00p

Sunday

Closed